Welcome
The Physician Clinical Teachers' Association was established in 2008 to address the need for a democratic organization to effectively represent the interests of the physician clinical faculty of the Northern Ontario School of Medicine.
Mission
The objectives of the Association include "to act as a bargaining unit representing the physician clinical teachers of NOSM" as well as to act as a vehicle "to unify the physician clinical teachers of NOSM and to promote harmony and understanding amongst them and the medical profession at large."
In addition, the Association is directed "to assist and encourage Physician Clinical Teachers to continually increase their professional knowledge, skills and proficiency" with membership in the PCTA being limited to Physician Clinical Teachers of NOSM who are in good standing with the OMA and hold a current CPSO certificate of registration.
Organization
The PCTA holds an annual meeting of the members to elect the Board and present the audited financial statements. The PCTA Board elects the PCTA executive. Board meetings are held monthly or at the direction of the President. The Board appoints representatives to the Northern Ontario Academic Medicine Association (NOAMA) Board, as well as NOSM committees requesting PCTA representation.
PCTA appointees represent the majority on the NOAMA Board and its sub committees.
Membership Fees
PCTA members have agreed to cover the operational expenses of the organization through an annual allocation from the AFP Funding based on the budget approved at the Annual General Meeting of members. PCTA Board members and PCTA appointees to committees are remunerated in accordance with the OMA guidelines and the PCTA Compensation Policy.
COMMITTEES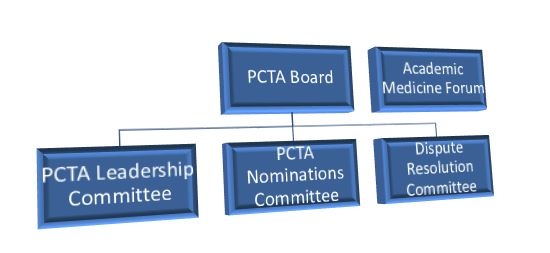 ---
Associated organizations


Physician Health Program
The PHP promotes prevention and early identification of health issues and supports health professionals, their families and workplaces.
The PHP provides confidential support for individuals who are struggling with substance use and mental health concerns, as well as with other behaviours that have a personal and professional impact. The PHP also offers support and education to physician leaders, hospitals, and other worksites; as well as to anyone else who is concerned about a loved one or colleague. Our services are aimed at supporting a culture of medicine that values prevention, early identification and intervention of health concerns, that supports both the health professional, their loved ones, and the workplace.


NOSM
Since its inception, the Northern Ontario School of Medicine (NOSM) has proudly defied traditional health professional education.
NOSM is a medical school like no other. No other Canadian medical school is a joint initiative between two universities—in this case, Lakehead University in Thunder Bay and Laurentian University in Sudbury. No other Canadian medical school provides training in more than 90 communities across a geographic expanse of 800,000 square kilometres. No other Canadian medical school was established with an explicit social accountability mandate—a mandate to improve the health of the people of the region. Rather than taking an off-the-shelf approach to delivering health professional programs modelled after traditional methods, NOSM has developed novel education strategies to meet the needs of Northern Ontarians.
A medical school of the whole of Northern Ontario, NOSM is a joint initiative of Lakehead University and Laurentian University. The School's 1,700 faculty members educate physicians, dietitians, physician assistants, audiologists, occupational therapists, physiotherapists, and speech-language pathologists in nearly 100 sites distributed across its wider campus of Northern Ontario.
Events
PCTA Nominations Due
Thu May 23, 2019
Please vote for your PCTA Executive
PCTA Annual General Meeting
Mon May 27, 2019
The Annual PCTA Annual General Meeting will be held via teleconference.
NOAMA LEG Lead & Administrators Meeting
Fri Nov 08, 2019
Sheraton Toronto Airport Hotel & Conference Centre.
NOSM Northern Constellations
Fri May 08, 2020
Please mark your calendars for another great weekend in Thunder Bay, ON.